Open links in new window
Feedback?...
Movies I Wanna See! (UPDATED! Recently!)
LINKS AHOY!

SEARCH THE NET

HUMOR (oft inappropriate, natch)
[Something Awful]
MISC. KNOWLEDGE
G33KY 5+UFF

MISCELLANOUS

UMBC: Homepage

Want your link here? All you have to do is ask...

Join the Blue Ribbon Online Free Speech Campaign!
Wednesday, January 22, 2003
Fans Outraged at New Character in The Return of the King

By Brian Briggs

Wellington, New Zealand - A recently leaked trailer for The Return of the King has Tolkien fans outraged over the apparent addition of a new character - Jar-Jaromir. The scene depicted in the trailer shows Jar-Jaromir shouting, "Gondora gonna fallsa";
he then trips over a corpse and knocks down a couple of Uruk-hai.

Producers of The Lord of the Rings trilogy confirmed the addition of the half-brother of Boromir and Faramir.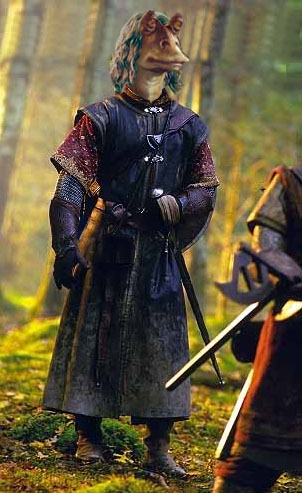 OK, that's it! I'm starting a petition right now!

0 Comments:
Want more coagulated brilliance? (And who doesn't?) Then go to the archives and read the oldies to your heart's content. Don't like this blog? Click here to move on to another... Come on back now, ya hear?